NEWS
Ad hoc announcement: Preliminary financial figures for 2016 (unaudited), profit forecast Interroll posts record figures

Read more

Interroll's New Modular Conveyor Platform optimizes delivery processes at Liwayway in China

Read more

Interroll strengthens presence in the Americas, opens office in Mexico

Read more
Loyalty program: Rolling On Interroll
Find the right belt drive!
Find out if a belt drive can be used in your application case! By entering a couple of application parameters, you can check if a drum motor can be used and what type.
Try out this user-friendly tool! You are guided from the beginning on.
Belt Drive Matchmaker
Our References
Our products are in daily use by major international brands such as Amazon, Bosch, Coca-Cola, DHL, Procter & Gamble, Siemens, Walmart and Yamaha (motorcycles).
View references
Our Values
For Interroll, the right use of resources is the main precondition for maintaining and consolidating its technological and innovative pre-eminence – and that benefits customers, too.
Learn more
We are hiring. Are you the one?
People at Interroll embrace values like responsibility, accountability and a passion for those details that really count.
Watch video
Customer magazine "moving"
Interroll share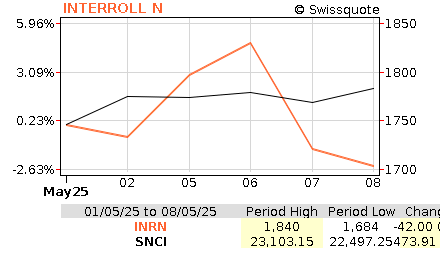 Inspired by Efficiency
Play
INTERROLL PROFILE
The Interroll Group is a worldwide leading producer of high-quality key products and services for internal logistics. The company offers a broad product range in the four product groups "rollers", "drives", "conveyors & sorters" and "pallet & carton flow" to around 23,000 customers (system integrators and OEMs) around the world. Core industries are courier, parcel and postal services, airports, food processing industry as well as distribution centers and other industries. Interroll products are in daily use at amongst others well-known global brands such as Amazon, Bosch, Coca-Cola, Coop, DHL, FedEx, Peugeot, PepsiCo, Procter & Gamble, Siemens, Walmart and Yamaha. Interroll is engaged in global research projects for logistics efficiency and actively supports industry associations in developing standards. Headquartered in Sant'Antonino, Switzerland, Interroll operates a worldwide network of 32 companies with around 2000 employees. The company was founded in 1959. The Interroll Group has been listed on the SIX Swiss Exchange and included in the SPI index since 1997.